HealthVerity Patient Confidence Index (HVPCI) downgraded to Severe as telehealth visits diminish
June 11, 2020 - Philadelphia, PA - HealthVerity announced the biweekly update to its HealthVerity Patient Confidence Index, or HVPCI, and reported a national score of 58, a 10-point decline from the previous period. Indexed against a pre-pandemic score of 100, this level is considered "Severe" in terms of patient engagement with the US healthcare system.
The HVPCI represents a measure of physician visits undertaken by non-COVID-19 patients across 20 key therapeutic areas, highlighting a significant decline in visits since the pandemic took hold in the US at the beginning of March. The HVPCI is crucial as an expression of the confidence in patients to seek care for acute and chronic illnesses balanced with the risk of exposure to coronavirus in a public setting. As coronavirus cases peak and eventually subside, this indicator will ultimately serve as an overall measure of US patient engagement between patients and their physicians.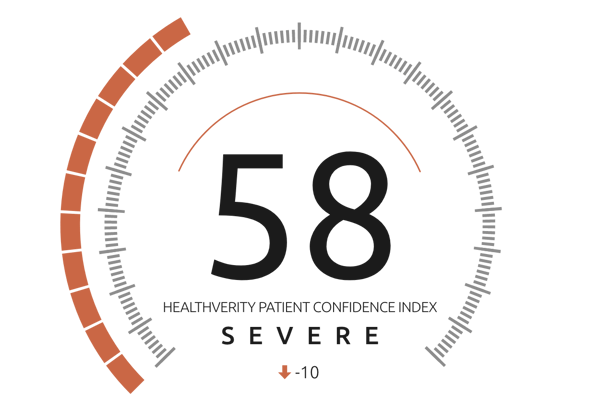 This week's national score of 58, or Severe, signals a renewed decline in outpatient physician visits by Americans as compared to levels last seen in late March. The 15% reduction in visits from the prior period, however, is consistent with the reduction in visits seen in 2019 over the same period. This week's index demonstrates that gains made in the prior period may have been offset by increasing infection rates in new parts of the US, the potential impact of mass protests in major markets, the Memorial Day holiday and a lull following the surge in visits as some physician practices reopened on a limited basis.
The Severe rating, however, once again, highlights the significant gap from pre-pandemic levels. More importantly, every physician specialty in the index, as measured by weekly medical claims, demonstrated declines even as many physician practices began to reopen to patients and hospitals began expanding their non-COVID-19 services, including elective surgeries.
All 20 specialties reported lower visits than the prior HVPCI including dermatology (56), endocrinology (60), gastroenterology (61) and ophthalmology (62). Specialties such as cardiology (60) and oncology (68) also experienced declines consistent with the broader market. The HVPCI for surgery (58) was a surprise given the number of hospitals and surgery centers that began performing elective surgeries while pediatrics (54) again highlights concern regarding the potential impact of a dip in pediatric immunizations rates. Infectious disease (86) fell over 10 points likely tied to the reduction in the infection rate in major northeastern metro areas while behavioral health (47), excluding psychiatry, had the steepest drop out of any specialty at 17 points."
Despite the decision by many state governments to begin the reopening process, this week's HVPCI reflects how quickly patient confidence was undermined by the social and political issues sweeping the country," said Andrew Goldberg, chief operating officer at HealthVerity. "While the decline is not inconsistent with the prior year trend overall, the pent up demand for critical healthcare services remains a harbinger of a future crisis in non-COVID conditions."
The most significant development this week was a nearly 25% decline in overall telehealth visits compared to the prior index period. Additionally, telehealth visits only accounted for 15% of all physician visits in the data supporting the index, a downtick of 150 basis points.

The decline is attributable to both the Memorial Day holiday and a general decline in telehealth sessions across the period. The ratio, however, is still up significantly from less than 1% prior to the pandemic. Overall, every specialty recorded declines in this period. Many health plans and hospital systems continue to encourage telehealth visits by waiving co-pays and creating on-demand scheduling.
Learn more about HealthVerity's efforts to educate and inform on COVID-19 by getting in touch with us using the button below.