HealthVerity Patient Confidence Index (HVPCI) signals dramatic changes in patient behavior due to COVID-19
April 30, 2020 - Philadelphia, PA - HealthVerity announced the biweekly update to its HealthVerity Patient Confidence Index, or HVPCI, and reported a national score of 50. Indexed against a pre-pandemic score of 100, this level is considered "severe" in terms of patient engagement with the US healthcare system.
The HVPCI represents a measure of physician visits undertaken by non-COVID-19 patients across 20 key therapeutic areas, highlighting a significant decline in visits since the pandemic took hold in the US at the beginning of March. The HVPCI is crucial as an expression of the confidence in patients to seek care for acute and chronic illnesses balanced with the risk of exposure to coronavirus in a public setting. As coronavirus cases peak and eventually subside, this indicator will ultimately serve as an overall measure of US patient engagement between patients and their physicians.
This week's national score of 50, or severe, signals a dramatic reduction in the number of patients visiting their physicians for treatment. The trend is directly contributing to challenges in adherence and access to chronic medications, especially injectables and infusions, and a decline in first diagnosis for many important diseases. Physician distancing thus increases the risk of further hospitalizations at a time when America's hospitals are overwhelmed by COVID-19 patients.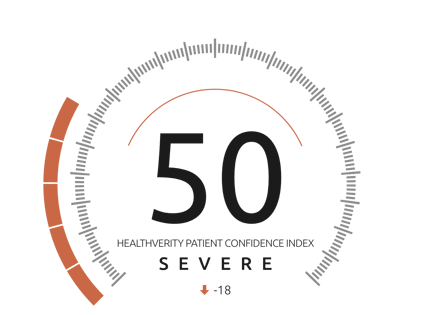 Specialties seeing the greatest loss in patient traffic, as measured by weekly medical claims received, include ophthalmology (29), dermatology (32), otolaryngology (35), endocrinology (50) and rheumatology (52). Specialties such as cardiology (55) and oncology (63) are also experiencing further declines consistent with the broader market. The HVPCI for surgery (47) confirms the trend at most hospitals to defer nearly all elective surgeries while pediatrics (50) reinforces concerns regarding the potential impact of a dip in pediatric immunizations rates. Not surprisingly, the least impacted discipline was infectious disease (82).
"This week's HVPCI reflects the devastating impact of COVID-19 by measuring the stark contrast between patient need and patient confidence in safely receiving treatment in an outpatient setting," said Andrew Goldberg, chief operating officer at HealthVerity. "The severe rating is a reminder of the difficult trade-offs being made by patients to defer important diagnoses or treatments in favor of minimizing exposure to coronavirus."
As a further indicator of the dramatic shift in patient behavior since the arrival of COVID-19 in the US, the top 20 physician specialties continue to experience a sharp increase in telehealth visits. Telehealth visits grew by 79% since the prior index period but represented nearly 17% of all physician visits in the data supporting the index. This ratio is up sharply from less than 1% prior to the pandemic. The largest demand occurred in primary care, pediatrics, behavioral health and gastroenterology. Many health plans and hospital systems encouraged telehealth visits by waiving co-pays and creating on-demand scheduling.
Learn more about HealthVerity's efforts to educate and inform on COVID-19 below.