August 21, 2020 - Philadelphia, PA - HealthVerity announced the biweekly update to its HealthVerity Patient Confidence Index, or HVPCI, and reported a national score of 86, a two point decrease from the previous period. The index declined for the second straight period but remains at a "Stable" level, reflecting consistent patient engagement across the US healthcare system.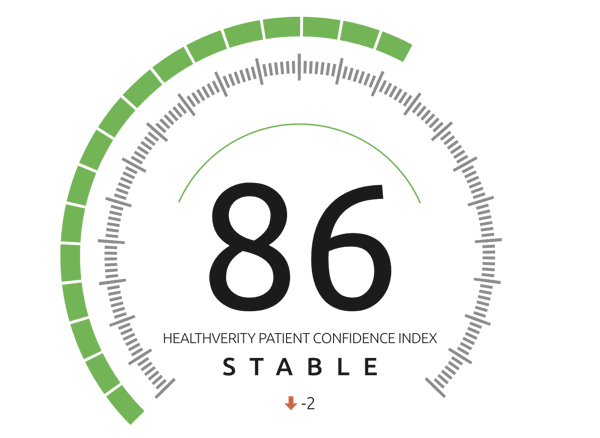 The HVPCI represents a measure of physician visits undertaken by non-COVID-19 patients across 20 key therapeutic areas, highlighting a significant decline in visits since the pandemic took hold in the US at the beginning of March. The HVPCI is crucial as an expression of the confidence in patients to seek care for acute and chronic illnesses balanced with the risk of exposure to the coronavirus in a public setting. As coronavirus cases peak and eventually subside, this indicator will ultimately serve as an overall measure of US patient engagement between patients and their physicians.
This week's national score of 86, or Stable, marks the third published score within this indexed range. Against a pre-pandemic score of 100, patient engagement, both traditional visits and telehealth visits, declined slightly, yet still notably below what was reported during the same period in 2019. Despite the overall score, the index experienced more dramatic declines in key specialities with nine specialities dropping by 10% or more from the previous period.

Infectious disease, one of the key areas tracked for the HVPCI, remains the highest ranked speciality at 97, but experienced a fifteen point decline from its prior peak of 112. Although this result denotes a continued confidence in patients to visit their doctors amidst the COVID-19 pandemic, it also reflects the corresponding need for increased care as officials announced that the US surpassed 5.5 million cases.
As mentioned earlier, nearly half of the tracked specialties reported significant declines from the previous index, with cardiology (80, -8), dermatology (79, -10), ophthalmology (88, -10) and rheumatology (80, -14) exhibiting major moves. Psychology/behavioral health (70, -2), pulmonology (69, -8) and podiatry (70, -7) all remained at depressed levels as the spread of coronavirus remains unabated in many states across the country.
"The steady decline in the HVPCI over the past month is a direct response to the elevated levels of new COVID-19 cases that are sweeping through our most vulnerable populations," said Andrew Goldberg, chief operating officer at HealthVerity. "The grave consequences of this disease are being realized by states seemingly unprepared for the spread, even as millions of more Americans lose their jobs and their health insurance and millions of more children begin to head back to schools that are overwhelmed at the prospect of keeping students and teachers safe."
Telehealth accounted for 9.7% of all physician visits in the data supporting the index, the seventh straight period of declining share and the fifth straight week of declining nominal visits.
Learn more about HealthVerity's efforts to educate and inform on COVID-19 here.