HVPCI reinforces the severe state of healthcare in America
May 14, 2020 - Philadelphia, PA - HealthVerity announced the biweekly update to its HealthVerity Patient Confidence Index, or HVPCI, and reported a national score of 55. Indexed against a pre-pandemic score of 100, this level is considered "severe" in terms of patient engagement with the US healthcare system.
The HVPCI represents a measure of physician visits undertaken by non-COVID-19 patients across 20 key therapeutic areas, highlighting a significant decline in visits since the pandemic took hold in the US at the beginning of March. The HVPCI is crucial as an expression of the confidence in patients to seek care for acute and chronic illnesses balanced with the risk of exposure to coronavirus in a public setting. As coronavirus cases peak and eventually subside, this indicator will ultimately serve as an overall measure of US patient engagement between patients and their physicians.
This week's national score of 55, or severe, signals a slight uptick in outpatient physician visits by Americans but reinforces the overall impact of shelter in place orders throughout the country. The trend is directly contributing to challenges in adherence and access to chronic medications, especially injectables and infusions, and a decline in first diagnosis for many important diseases. Physician distancing thus increases the risk of further hospitalizations at a time when America's hospitals are overwhelmed by COVID-19 patients.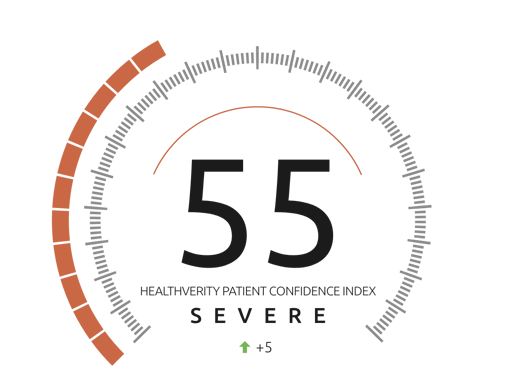 All but two specialties saw a slight increase in patient traffic, as measured by weekly medical claims received, including dermatology (36), ophthalmology (37), otolaryngology (42), and endocrinology (58). Specialties such as cardiology (62) and oncology (69) also experienced slight increases consistent with the broader market. The HVPCI for surgery (50) confirms the trend at most hospitals to continue to defer nearly all elective surgeries while pediatrics (57) reinforces concerns regarding the potential impact of a dip in pediatric immunizations rates. Not surprisingly, the least impacted discipline was Infectious disease (92) while rheumatology (62) demonstrated the most significant jump with a ten-point increase.
"This week's HVPCI reflects that patients are still choosing their personal safety in the short-term over their long-term health," said Andrew Goldberg, chief operating officer at HealthVerity. "A second straight index period with a rating of severe is a clear signal that healthcare providers, insurers and pharmaceutical manufacturers have a long way to go in addressing the impact on non-COVID populations and the domino effect this could have on our healthcare infrastructure in the future."
As a further indicator of the dramatic shift in patient behavior since the arrival of COVID-19 in the US, the top 20 physician specialties continue to experience a major shift to telehealth visits. Telehealth visits grew by 29% since the prior index period but represented nearly 19% of all physician visits in the data supporting the index, an uptick of 200 basis points. This ratio is up sharply from less than 1% prior to the pandemic. The largest nominal demand occurred in Primary Care, Pediatrics, Behavioral Health and Cardiology. Cardiology experienced the largest percentage gain of major specialties, up 57% from the prior index. Many health plans and hospital systems encouraged telehealth visits by waiving co-pays and creating on-demand scheduling.
Learn more about HealthVerity's efforts to educate and inform on COVID-19 below.