Scaling a hyper-growth tech company
HealthVerity's journey from an unknown startup to a major disrupter in the Healthcare industry
Written by Amanda Elefante, senior vice president of People at HealthVerity
Our transition at HealthVerity from a small team working together every day in a compact space in Philadelphia to a hyper-growth tech company of hundreds of team members distributed across the U.S. has been an incredible adventure. Last year, we were fortunate to welcome over 100 new team members, and our hiring pace has further accelerated in the new year.
My journey with HealthVerity began in May 2016 when I arrived on the second floor of the Philadelphia Horticultural Society building at 20th and Arch Streets and found about a dozen team members sitting closely together, intently focused on their Macs. In those early days, we heard every keyboard click, chair roll across the concrete floor and conversation in our compressed office space. It was definitely awkward at times, but also inspiring, as we worked together to launch the company from an unknown startup to a major disruptor in the Healthcare industry.
This year, as I celebrate my sixth anniversary, I can reflect on the incredible growth we have enjoyed over the years, both financially and in total team members, unhindered by the extensive changes in our teams, across our country and throughout the world. It's particularly interesting to reflect on what has stayed the same during this growth, as well as what has changed, and to consider what might evolve as we continue to scale.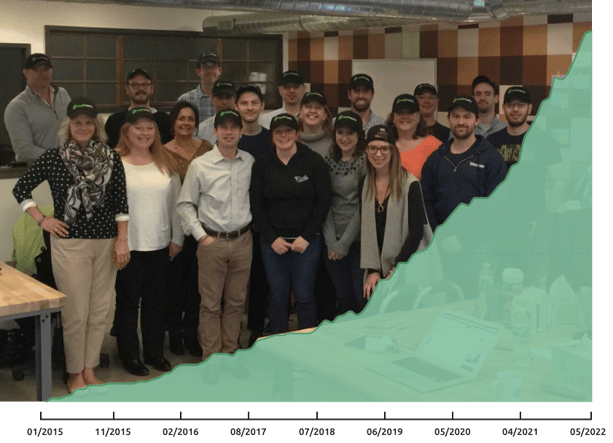 What has stayed the same?
Making an impact
We continue executing on our vision to build critical infrastructure for the health insights economy by enabling the largest real-world healthcare data ecosystem in the U.S., and with it, powering the exchange of RWD faster and more accurately than any other company. Alongside our clients in top pharma, payer and the government, every team member makes an impact through their contributions. The work is extremely rewarding and especially so as it relates to informing the response to COVID-19 by the Centers for Disease Control (CDC).
The team builds the team
Strong leaders know that they are only as successful as the teams they lead. An effective way to empower a team is to ask for input on who will join the company and then invite the team to help with onboarding the new person. Our team members have built HealthVerity by personally being involved in developing assessments, forming interview questions and onboarding new hires. The People Team provides a structured interview process and guides interview and bias training for all first time interviewers. In the process, hiring managers also weigh in last so that everyone else can share their feedback without bias. And lastly, the referrals coming directly from our team members, represent a sizable portion of our hiring in most years.
Gratitude for each other
On Fridays, our entire company continues to come together and review the accomplishments and challenges of the current week as well as to provide shoutouts to each other at the end. On any given Friday, each of our teams has the option to present a slide and share their wins or challenges with the greater team. This weekly ritual has welcomed a steady increase in attendees, well beyond what used to fit into one of our conference rooms, while the shoutouts of gratitude at the end remain plentiful and heartwarming. In fact, it's a rare Friday meeting when we don't fill up a page in the deck or run out of time.
Celebrating life's moments
We've always enjoyed celebrating the individual moments in the lives of our team members. In particular: birthdays, weddings, babies, and anniversaries! We've recognized birthdays in different ways each year but always by delivering a small gift (cupcake, succulent, coffee, and this year - socks for a cause!). For anniversaries, we call them out at our Friday All Hands meeting, and on the 2nd anniversary specifically, we crowdsource special thoughts via a jamboard and share it with everyone. For weddings and babies, team members are invited to contribute and we select something from their registry or provide a gift card. And, at the end of the year, we have continued the tradition of celebrating every year (except in 2020 due to COVID-19) with a big holiday party in December for the entire company!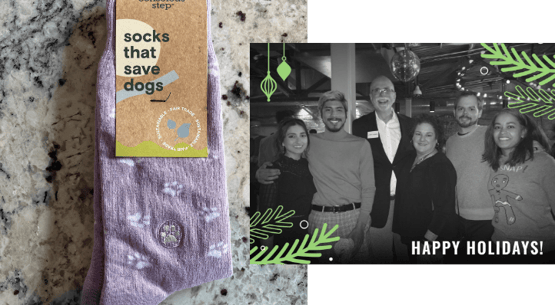 What's changed?
Where we work
There was a point in time when only one person a month might join the company and the night before their first day either Andrew Kress, CEO, or John Cappiello, CTO, would pull out the power tools and put together their new desk. Each new desk was the same, with a butcher block top and metal legs, and once built, would be placed in one of the short rows of our small office. Today, while our co-founders and headquarters are still based out of Philadelphia, joining HealthVerity is no longer dependent upon being physically present or even near the city. Our team is now distributed across 30 states, with 50% of our team living in and/or near Philadelphia and the other 50% throughout the country. This has allowed us to expand our search and focus on hiring the very best person every time. New team members in the Philadelphia area, when they choose to work in the office, enter into a beautifully appointed office space, with rows of desks and chairs separated by either stairs, floor-to-ceiling glass, the community room or one of many conference rooms outfitted with monitors and Zoom access. And while there are dedicated areas in the office for each team, the desks are not necessarily specific to any one person, and there is plenty of room to spread out.

Training
Upskilling technical and role-based skills is a core benefit that is offered to every team member now. Through platforms like Udemy and Codecademy, our technically focused team members have the ability to upskill in many areas, with the most popular training focused on Python and AWS. Non-technically focused team members might pursue role specific training such as product, interviewing, compensation or accounting. And for our many people managers, we offer management training that includes virtual courses taught live in small group settings with expert coaches.

Equity, inclusion, diversity and belonging
We are striving to make a difference, as an organization made up of many individuals passionate about equity, inclusion, diversity and belonging. In terms of diverse representation on our teams over the years, we've continued to make progress, and currently, 50% of our team is made up of women and people of color. We have also formed our Equity, Inclusion, Diversity Council and now have our third cohort of volunteers organized. Our Council focuses on developing practices around internal inclusion, communications, community outreach and recruiting. Some early accomplishments from our Council include our formal statement, company-wide voting initiative, inclusive job descriptions and a COVID-19 donation drive to support Black Doctors Consortium, Garces Foundation and SEMAAC.
So many babies
Twenty-three babies have been welcomed into the families of our team members! With our paid family leave policy effective on the first day of employment, all of our parents are now able to take paid time off to spend with their new additions regardless of how long they've worked for the company.
What might evolve as we continue to scale?
Smaller communities
As we grow in size, we will focus on forming smaller communities so that new team members can quickly and more easily find places of belonging. These groups, woven together, will strengthen the fabric of our culture. Providing regular opportunities for these communities to come together and share ideas and experiences will be important, as will developing more diverse communities, such as employee resource groups through our Council.
Engineering Week was hosted in April and many team members flew in for a few days of learning, sharing ideas and spending time together. In May, a Leadership Meeting was held where senior leaders and others presented company and team updates as well as dinner in the evening. And most recently, our Operations Team gathered for an onsite.

Engineering Week Onsite April 2022

Leadership and Operations Meeting Onsite May 2022
Celebrating wins
We've worked hard to grow and achieve our success over the years. Exercising our celebration muscles is something we are looking to improve going forward by recognizing team and company wins more often. Tremendous thanks to all of our team members for this achievement!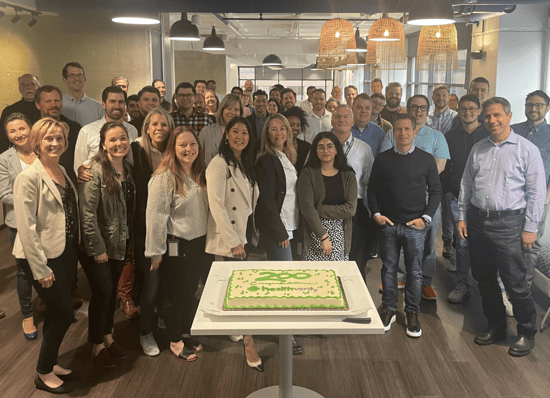 And yes, we are still scaling!
We are currently hiring to fill positions across all of our teams. Sound like the place for you? Check out our available opportunities here.