HVPCI reports positive swing to patient confidence
December, 2020 - Philadelphia, PA - HealthVerity announced the most recent update to its HealthVerity Patient Confidence Index (HVPCI) and reported a national score of 98, a five-point increase from the previous period in mid-November. The HVPCI reached its "highest" score, for the second time, having also reported 98 back in October. Not surprisingly with these results, all but two specialties saw an increase in patient volume compared to last month and several reported their highest visits to date since the onset of the pandemic in March of this year.

The HVPCI represents a measure of physician visits undertaken by non-COVID-19 patients across 20 key therapeutic areas, highlighting a significant decline in visits since the pandemic took hold in the US at the beginning of March. The HVPCI is crucial as an expression of the confidence in patients to seek care for acute and chronic illnesses balanced with the risk of exposure to the coronavirus in a public setting. As coronavirus cases peak and eventually subside, this indicator will ultimately serve as an overall measure of US patient engagement between patients and their physicians.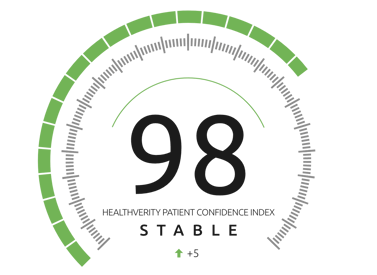 This period's national score of 98 tells two distinct stories: one of positive return to acute and chronic care by patients in the US and one that showcases a steady increase in infectious disease, where an uptick in visits is no longer a positive. Infectious disease (125) is up 25% in comparison to pre-COVID levels and this month reported its highest score to date. With the vaccine currently available and being rolled out across the country, this therapeutic area may become increasingly difficult to monitor since the distinction between vaccine recipients and active COVID or flu-like patients will be difficult to decipher.
Alternately, there is a positive undertone to the majority of results seen in the December index. Total visits are still behind where they were at this time in 2019, but are slowly inching their return to pre-pandemic levels. As of early December, total in-person visits accounted for 83% of the volume seen at the same time last year, while at the height of COVID-19 in the US, visits were only tracking near 40%. Patient confidence, in returning to "normal" standards of care, is moving in the right direction as we close out this tumultuous year.
But is there a "new normal?" Telehealth has played an important role in patient healthcare, becoming an alternative method for patients either unable to visit their doctors in person due to office closures and restrictions or as a "safer" option for those who felt uncomfortable entering facilities that had been exposed to COVID-19. Telehealth visits are up more than 7,500% percent in December 2020 compared to this time last year with behavioral health, pediatrics and FP/GP (general practice) consistently reporting the highest numbers. With telehealth still only accounting for less than 10% of overall visits within the US and insurance benefits quickly changing due to the end of the year, it's still too early to tell if telehealth will have a lasting impact on standard of care in the US.
Learn more about HealthVerity's efforts to educate and inform on COVID-19 here.