Patient centricity is top of mind for life sciences companies today. In order to put the patient at the center of research and care, life sciences companies need to collect the right kind of data—data that illuminates patients' actions along their healthcare journey. But patients are often hard to follow through different doctors, hospitals and testing centers.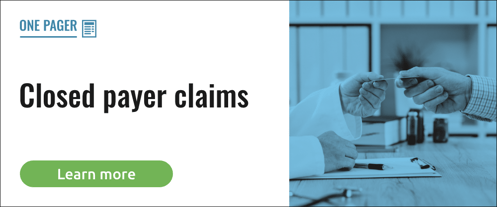 Closed payer claims data follows nearly all of these actions. While a patient is enrolled with a healthcare insurer, nearly all of their interactions across disparate healthcare settings are captured in one place. Closed payer claims data contains the information reported to the insurer during the time of enrollment, so no pharmacy or doctor's visit gets lost.
Closed vs. open claims
Closed payer claims data is generated directly from the insurer, while open claims data is sourced from separate providers within the healthcare value chain. Providers for open claims can include medical claims clearinghouses, pharmacy systems, labs and EMR software vendors.
Leaving very few gaps in the patient journey, closed payer claims data captures nearly all events that occur during a patient's enrollment period. There is no need to piece together individual doctor's visits or diagnoses. Instead, closed payer claims can be leveraged to understand a more robust timeline of all events in all settings of care, crucial for many types of outcomes research.
Closed payer claims also reveal when a patient does not visit the doctor, fill a prescription or take another action, given that they were eligible for these services. Eligibility information is unique to closed payer claims and ultimately helps determine which patients within the data are actively seeking or avoiding treatment.
Open claims data, however, only indicates when actions are taken at a specific healthcare setting. Open claims are more valuable in highlighting activities over a longer time frame, since patients change insurers every eighteen months, on average, and may sometimes disappear from the HealthVerity data ecosystem.
The largest closed payer claims dataset
Closed payer claims data uncovers the decisions patients make in different stages of their journey—and ideally the rationale behind them. It can uncover barriers and motivations for certain treatments, show specific patient and provider interactions and ultimately consolidate disparate patient data.
An unmatched volume of closed payer claims data is now available for license in HealthVerity Marketplace.
With the addition of closed payer claims data, HealthVerity Marketplace is now the largest healthcare and consumer data ecosystem in the US. HealthVerity Marketplace includes de-identified data for over 330 million patients and 150 billion transactions from 60+ data sources. Within that, the closed medical and pharmacy payer claims data encompasses more than 190 million patients from over 150 unique payers. The transaction-level closed claims data is uniquely flexible, as it can be licensed by state, NPI, plan type (commercial, Medicare, Medicaid) and more.

The data is completely interoperable across the HealthVerity data ecosystem. Link to open medical and pharmacy claims, EMR, hospital chargemaster, lab results, media data, grocery and consumer data types to track specific outcomes and build out research that puts the patient first.
Closed payer claims use cases
Outcomes research
Investigate the patient's healthcare journey including nearly all events that occur during their enrollment period.
Real-world evidence
Generate evidence leveraging real-world data to answer questions from burden of disease to comparative effectiveness.
Physician segmentation
Connect NPI information and geography details to optimize clinical trial recruitment or enhance physician segmentation.
Market access
Enable HEOR studies, insight and models to evaluate cost of care, cost-effectiveness and patient outcomes.
Closed payer claims plus media data link
View online behaviors such as digital media impressions and clicks to understand the impact on a patient's healthcare decisions.
Closed payer claims plus grocery
Evaluate the role that grocery and lifestyle purchases have on health outcomes such as diagnoses, doctor's visits and treatments.
Closed payer claims plus internal data
Link closed payer claims data to your internal data for deeper insights into your patient cohorts.
This unmatched volume of closed payer claims data has never been available before. Interested in learning more? Check out the recorded closed claims webinar hosted by Andrew Goldberg and Reyna Klesh that will dive into the details of how it is changing the game for the life sciences.