HealthVerity Patient Confidence Index (HVPCI) advances to Critical even as telehealth visits plateau
May 28, 2020 - Philadelphia, PA - HealthVerity announced the biweekly update to its HealthVerity Patient Confidence Index, or HVPCI, and reported a national score of 68. Indexed against a pre-pandemic score of 100, this level is considered "Critical" in terms of patient engagement with the US healthcare system.
The HVPCI represents a measure of physician visits undertaken by non-COVID-19 patients across 20 key therapeutic areas, highlighting a significant decline in visits since the pandemic took hold in the US at the beginning of March. The HVPCI is crucial as an expression of the confidence in patients to seek care for acute and chronic illnesses balanced with the risk of exposure to coronavirus in a public setting. As coronavirus cases peak and eventually subside, this indicator will ultimately serve as an overall measure of US patient engagement between patients and their physicians.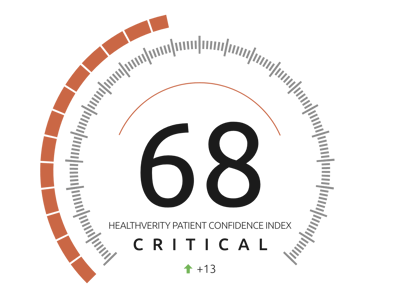 This week's national score of 68, or Critical, signals a marked improvement in outpatient physician visits by Americans to levels last seen in late March. The trend demonstrates some confidence returning to the healthcare system, but still highlights the significant gap from pre-pandemic levels. More importantly, every physician specialty in the index, as measured by weekly medical claims, demonstrated positive gains as many physician practices began to reopen to patients in the past two weeks and hospitals began expanding their non-COVID-19 services. In fact, eleven of the 20 specialties had higher indexes than the first HVPCI in March including dermatology (60), ophthalmology (67), otolaryngology (65) and endocrinology (70). Specialties such as cardiology (72) and oncology (83) also experienced increases consistent with the broader market. The HVPCI for surgery (65) also jumped and signaled a trend at many hospitals and surgery centers to begin performing previously deferred elective surgeries, while pediatrics (65) still signals concern regarding the potential impact of a dip in pediatric immunizations rates. Not surprisingly, the least impacted discipline remained infectious disease (98), while ophthalmology (67) demonstrated the most significant jump with a twenty-four point increase.
"This week's HVPCI reflects that we may have experienced a bottom in physician distancing as states begin to relax stay-at-home orders," said Andrew Goldberg, chief operating officer at HealthVerity. "A second straight improvement in the index back to Critical is encouraging, but we still have a long way to go to address the country's healthcare deficit in terms of deferred visits and disrupted therapeutic plans."


The sharply lower growth in telehealth visits also reflects the willingness of patients to seek a greater sense of normalcy in their healthcare routines. Telehealth visits grew by only 4% over the prior index period and declined slightly to 16.5% of all physician visits in the data supporting the index, a downtick of 250 basis points. This ratio is still up significantly from less than 1% prior to the pandemic. The vast majority of the nominal increase in telehealth occurred in behavioral health and psychiatry, which combined to account for three-quarters of the gains from the prior period while most other disciplines demonstrated minor or no growth. Overall, fourteen specialties increased in this period while six specialties experienced slight declines. Many health plans and hospital systems continue to encourage telehealth visits by waiving co-pays and creating on-demand scheduling.
Learn more about HealthVerity's efforts to educate and inform on COVID-19 below.