Throughout the past quarter, we've announced major collaborations, built on existing partnerships and continued to support industry-leading research and development in the life sciences with key real-time datasets and revolutionary technology. Here is a summary of HealthVerity's biggest announcements over the past three months.
Research collaboration with the FDA
We recently announced a multi-year Research Collaboration Agreement with the U.S. Food and Drug Administration (FDA) to facilitate the evaluation of novel data sources for their potential application to support the FDA's mission. As a partner, HealthVerity will help characterize the integrity, quality and reproducibility of these sources for the purpose of generating real-world evidence to address COVID-19.
"By identifying methods and processes to leverage this type of data for evidence generation, this collaboration builds on HealthVerity's provision of COVID-related data being used as part of separate COVID-19 research in progress by the FDA and Aetion."

- Andrew Kress, co-founder and CEO of HealthVerity
HealthVerity Patient Confidence Index
To track the drop-off and ongoing uptick of patients visiting their doctors or switching to telehealth visits, HealthVerity created the unprecedented HealthVerity Patient Confidence Index (HVPCI), which represents a measure of physician visits by non-COVID-19 patients across 20 key therapeutic areas.
The HVPCI was also used to support the 4-part Forrester Virtual Care Blog Series, which explored how quickly consumer demand shifted to virtual care at the beginning of the COVID-19 pandemic.
Real-Time Insights and Evidence
In April, we announced a new aspect of our partnership with Aetion to offer Real-Time Insights and Evidence, the first and only real-time evidence system designed to support biopharma and regulators as they assess treatment approaches for COVID-19.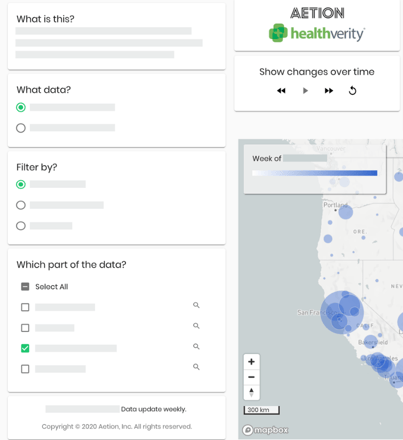 The integrated solution includes Real-Time Evidence Platform, an exclusive instance of the Aetion Evidence Platform to allow biopharma, regulators and public health officials to generate evidence on the usage, safety and effectiveness of prospective treatments for COVID-19, and to continuously update and expand this evidence over time. This is powered by built-in, real-time COVID-19-related data and measures. The solution also features the Real-Time Trend Reporting and Interactive Data Visualizer, a tool to help stakeholders understand the impact of COVID-19 on how patients, infected or not, are accessing healthcare resources. Learn more by watching the recorded webinar here.

VBA partnership announced
Our collaboration with Verpora, an exclusive value-based agreement (VBA) consultancy was also recently launched. The partnership will enable the deployment and acceleration of a new generation of VBAs based on patient-centric real-world data and a proven implementation strategy.
Register for the upcoming webinar on Tuesday, July 14th.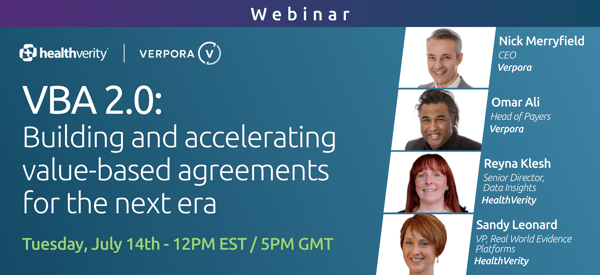 Growing our team
We are still hiring at HealthVerity! Amidst the adjustment to work-from-home, we have added nearly 20 new members to the team since March. Apply to one of the open positions listed for sales, engineering, marketing and operations.
---
That's just a peek at what's happening at HealthVerity right now. To stay up to date, login to HealthVerity Marketplace and subscribe to our blog below.