HealthVerity IPGE and the challenges with real-world data
In a recent HealthVerity LIVE webinar, we took an in-depth look at how the HealthVerity IPGE (Identity, Privacy, Governance and Exchange) platform is changing the way life sciences and government agencies are accessing and utilizing real-world data (RWD) through an integrated technology and RWD infrastructure.
Host:
Andrew Goldberg, Co-founder and COO at HealthVerity
Challenges with Real-World Data
When it comes to utilizing RWD in clinical settings, drug development, post-marketing studies or other use cases, there are many challenges that organizations still face. During the webinar, a poll question was posed to an audience of pharmaceutical companies, payers, government and analytics organizations: "What is the biggest challenge your organization is facing when it comes to RWD?" The top responses were as follows:
Data availability - access to high-quality and reliable RWD
Data accuracy - mastering and linking patients accurately across multiple data sources
Technology - having the right infrastructure in place to normalize and govern data with appropriate data permissions
Other difficulties that enterprise organizations face when using RWD include:
Fragmented, siloed data
Evolving regulatory and requirements that dictate privacy and governance
The desire to separate data itself from analytics and applications
To address these obstacles regarding availability, accuracy and technology when utilizing RWD, HealthVerity has developed a modern approach with the HealthVerity IPGE platform as a high governance privacy-compliant hub to connect and exchange RWD.

Watch the video below to hear Andrew Goldberg discuss the major real-word data challenges and dynamics faced by the industry today:
What is IPGE?
Taking a foundational approach to integrating data in a holistic ecosystem, HealthVerity has identified four key pillars that make up the critical infrastructure for the health insights economy: Identity, Privacy, Governance and Exchange.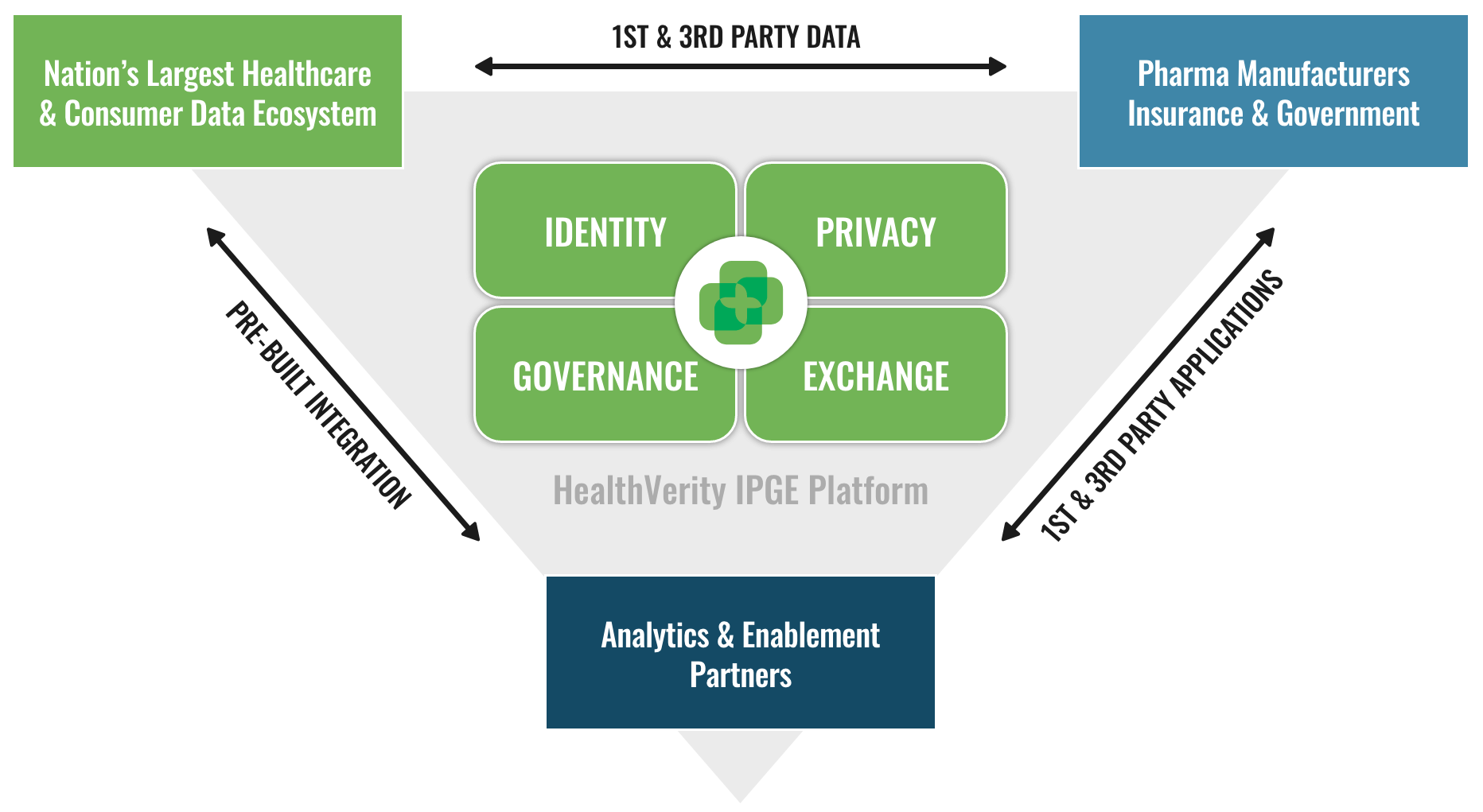 The Power of IPGE
As the most comprehensive RWD ecosystem in the US, the HealthVerity IPGE platform provides our customers with real-time access to more than 150 billion de-identified transactions on 330 million Americans from 75 data sources. In addition, our patient identity resolution and matching technology has 10x greater accuracy than legacy solutions with respect to how we ultimately de-identify and match identities across 1st party, 3rd party and partner data networks.

See the video below to learn how the HealthVerity IPGE is easy to use and why it is so impactful:
IPGE and Clinical Trials
Even though the use of RWD in clinical trials has been a topic of discussion for more than a decade, the COVID-19 pandemic highlighted the need for faster delivery of accurate and reliable RWD. The HealthVerity IPGE platform allows for access to that RWD in near real-time, while also providing life sciences companies the ability to link historical patient data before the clinical trial and eventually patient data after the trial, in a secure, privacy-compliant manner. Patient insights derived from outside of the trial can help these companies better follow patient journeys, develop clinical conclusions and ultimately understand the impacts at a greater level than ever before.

Watch the video below to reveal how using RWD in clinical trials can help improve outcomes and increase visibility into the patient journey:
Interested in learning more about the HealthVerity IPGE platform?
Email marketing@healthverity.com or contact us!