During yesterday's webinar, RWE and real-time insights: How to advance regulatory and commercial strategy in the COVID-19 era, hosts Andrew Kress, co-founder and CEO of HealthVerity and Jeremy Rassen, co-founder, president and chief science officer of Aetion, explored the power of real-time real-world data to answer questions on COVID-19 treatments, diagnoses and the impact on the broader healthcare ecosystem.
COVID-19 and real-world data
The webinar continues the discussion around HealthVerity and Aetion's new collaborative Real-Time Insights and Evidence, the first and only real-world evidence system designed for biopharma manufacturers and regulators to assess treatment approaches for COVID-19.
The Real-Time Insights and Evidence System combines broad and differentiated data to display near-real-time patient activity across care settings. It consists of two components: the Real-Time Evidence Platform and the Real-Time Trend Reporting and Interactive Data Visualizer. The Real-Time Evidence Platform is an exclusive instance of Aetion's platform built specifically for researchers to generate evidence on COVID-19 and the impact of the pandemic on broader treatment use. The Real-Time Trend Reporting and Interactive Data Visualizer is a tool to help manufacturers and regulators understand the impact of COVID-19 overall and how patients, infected or not, are accessing healthcare resources. It provides near-real-time signal detection and patient history as it's created.
Both partners are also actively working with the FDA on research collaborations to answer questions on COVID-19 care, testing and treatments as well as informing on RWD that's most applicable to COVID-19 research.
"The urgency of COVID-19 has elevated the need for immediate strategic industry partnerships," said Amy Abernethy, M.D., Ph.D., FDA principal deputy commissioner. "The more detail we can obtain around how COVID-19 affects different patient populations, the faster a potential treatment for coronavirus can become a reality. Developing the expertise needed to apply diverse, real-world datasets to these issues is an essential step in this direction."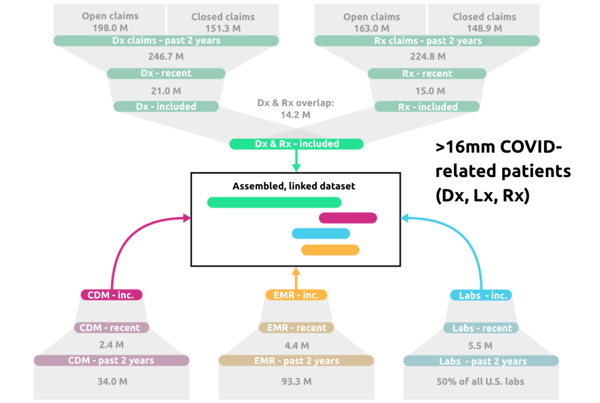 In an effort to enable research around the spread of COVID-19 and the impact it has on the healthcare system at large, HealthVerity has assembled broad, linked, longitudinal, near-real-time datasets that reveal a cross-section of patient events and outcomes, showing the history and enabling the ability to track events of interest moving forward. To build cohorts of interest, users can start with large sample sizes and access hundreds of millions of patients from open claims sources and closed payer claims.
Use cases
During the live webinar, three core use cases for the Real-time Insights and Evidence system were addressed:
1. Is the change in access to care affecting patient or physician treatment decisions in markets for injectable agents?

The data shows that changes in patient access are affected in almost every disease area. Over the past three months, patients have seen a negative impact to their healthcare routines: a lack of access to the care they should be receiving, whether due to physicians' offices being closed or patients actively avoiding the risk of exposure to COVID-19. To evaluate those trends, patient or provider cohorts are tracked by specialty and procedure or drug. The overall provider-specific visit patterns are identified for both in-office and telehealth visits and Rx activity. Changes in care delivery by patient profile and therapeutic area are then used to measure which trends may be permanent vs. temporary. This allows for the ability to track patients across sites of care, complete longitudinal patient activity and provide frequent updates to the data.
2. What is the process to identify effective in-hospital treatments, especially when applied to the example of hydroxychloroquine?

To discover what treatments were used in the hospital, present risk factors and what outcomes were experienced, researchers can combine outpatient claims, inpatient hospital chargemaster data and continue tracking through to outpatient events via open and closed payer claims. To adjust for analytic challenges such as disease severity and risk factors, regulatory-grade algorithms are applied to minimize confounding. The data is available at the transaction level, so its quality can be verified when submitting to regulatory agencies.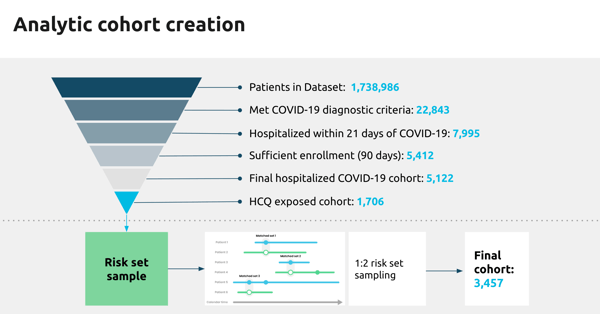 3. How can real-world data be used to measure the safety and effectiveness of a new vaccine for COVID-19?

Data must follow quickly from vaccine administration and reflect both prior health status and any ensuring events. Open claims data becomes available as soon as one day post-billing, which reveals what is happening in near-real-time to patients who are vaccinated. Since patients vary in their susceptibility to COVID-19 and their underlying risk factors, a self-controlled design requiring a patient to be compared to themself must be created to minimize confounding.
---

To learn more about how HealthVerity and Aetion are answering questions on COVID-19 interventions and the pandemic's broader impact on healthcare, access the webinar below.